Keane Wonder Spring – Death Valley National Park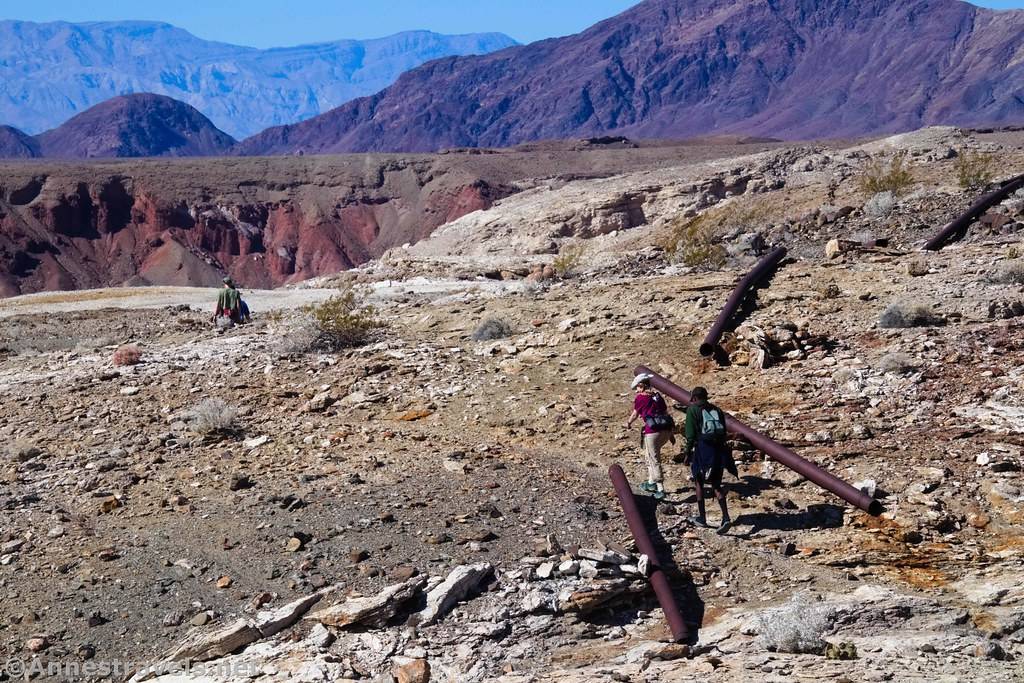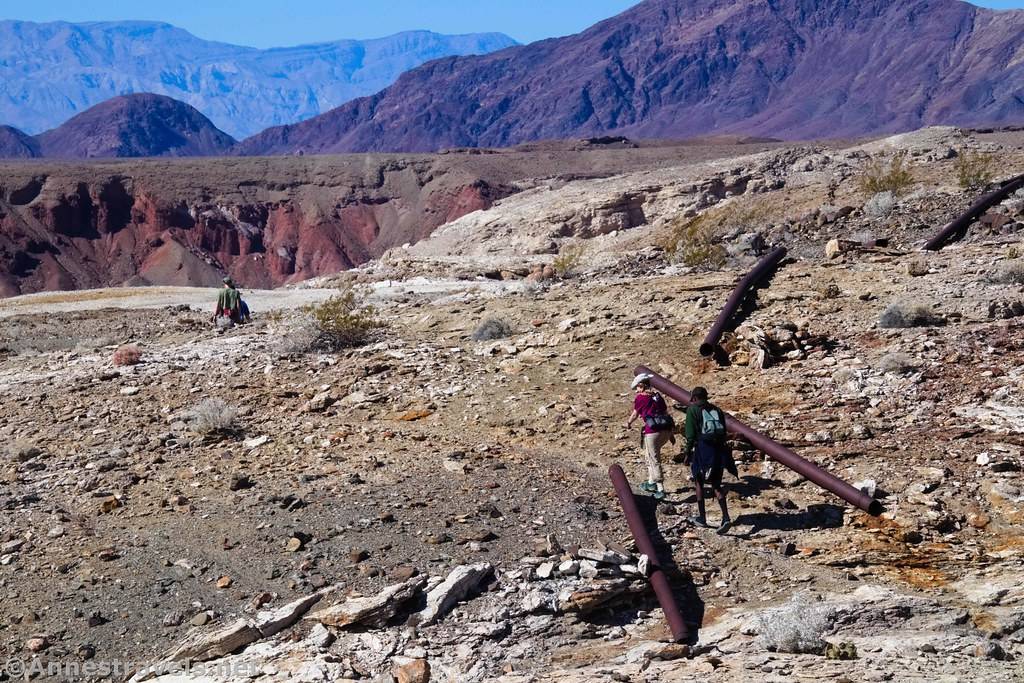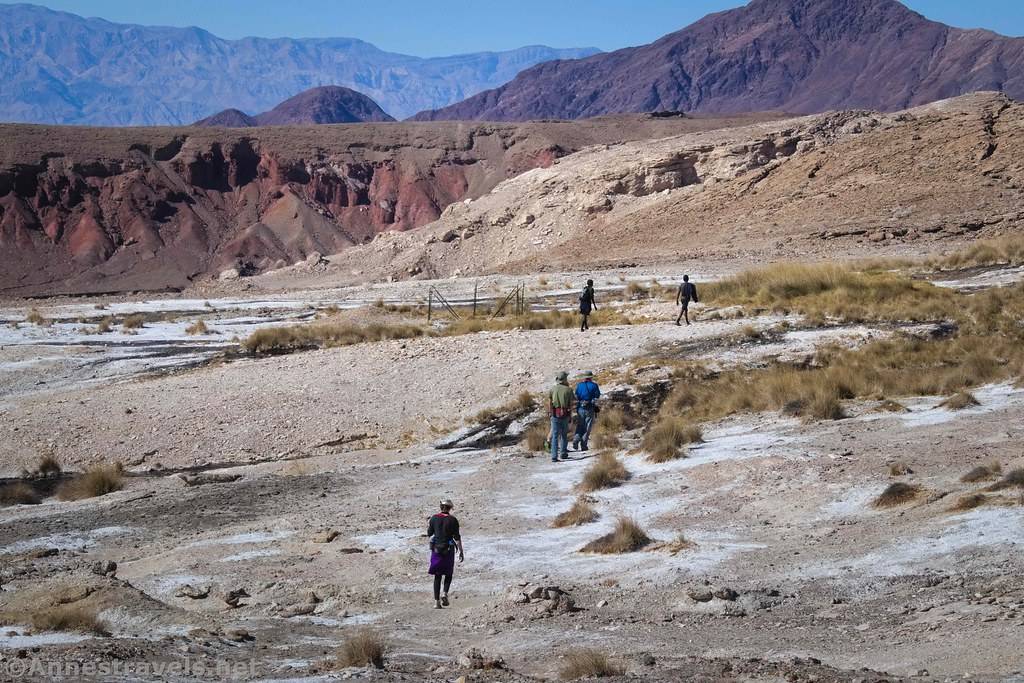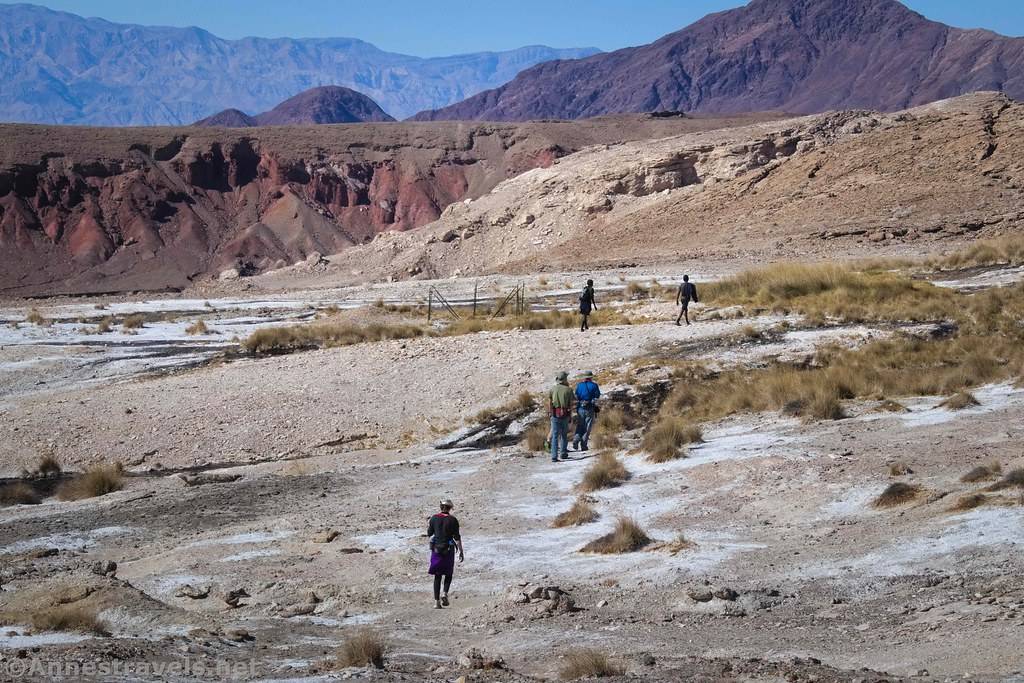 Keane Wonder Spring 1

A scenic, almost off-trail, hike to a water source in the desert that once served the Keane Wonder Mill.
Total Distance: 1.5 miles out & back
Elevation Gain: 294ft. (1,317ft. to 1,212ft.)
Difficulty: Easy
0-5 Mile Difficulty: Moderate
View Rating:

4.0 out of 5.0 stars

Author's Rating:

2.0 out of 5.0 stars

Visitor Rating:
Visitor Difficulty Rating:
Pets: No
Horses: No
Best Seasons: November-April
Special Permits: None
Water Availability: No potable water; no swimming
Overnight Options: None
Trailhead Amenities: None
Crowd Factor: Solitude
Trailhead Access: 1.2
Uses:
Trail Surface:
Features:
Hazards:
Mile-by-Mile: Keane Wonder Spring Route
0.0 Unmarked Keane Wonder Spring Trailhead (1,317ft.). This is not the Keane Wonder Trailhead; the unmarked, almost unidentifiable trail is located about halfway down the west side of the Keane Wonder Parking Lot. Head west down by the old water tank and locate one of the two trails (there are two trails for much of the hike) and follow it generally northwest along the old pipeline. (36.667797°, -116.910710°)
0.75 Cross The Keane Wonder Spring Outlet (1,212ft.). You can hop across the many small channels created by the outlet of the Keane Wonder Spring. Nearby, a concrete basin collects water in a stagnate pool. Not too far away, keep your eyes open for an arch. You may wish to continue another short distance to another water channel – exactly where the trail is in this section is up for grabs. From here, you can retrace your steps to your vehicle or continue on to John Cyty's Cabin & Mill. (36.672647°, -116.921850°)
History & More
There are two trails for much of this hike. It doesn't really matter which one you take since they'll both get you to the spring, sooner or later.
If you want to continue up to the source of the spring, turn right to follow the stream uphill to the reeds around its source. It's not the easiest hike since there is no trail and the ground is often soft (don't step on the soft ground; your footprints could remain for a very long time before being washed away). Above the spring is a mine shaft with toxic fumes and gasses. Stay out, stay alive!
The Keane Wonder Spring was an important part of the Keane Wonder Mine's operation – water was necessary for the survival of the workers as well as for working the stamp mill and other purification processes. The spring was not sufficient to provide water for full production of the mill, so another well was tapped to allow the ore refining to continue non-stop.
Download Trail Map
Coming soon!
Driving Directions
From Furnace Creek, take CA-190 north 10.6 miles to the junction for the Beatty Cutoff. Turn right toward Beatty. After 5.7 miles of driving north, turn right on the gravel road to the Keane Wonder Mine Trailhead 2.8 miles later.
Additional Warnings & Regulations
Special Permits & Regulations
Fees
It is illegal to enter any mine, shaft, tunnel, or adit if gated or signed.
It is extremely dangerous to enter a mine due to unstable shafts, gasses, and more. Do not enter mines, even if they are apparently open!
Walking on, climbing, entering, ascending, descending, or traversing any mine, structure, feature, or ruin is prohibited.
Toxic chemicals or ore may be present around mine sites. Enter at your own risk.
Possessing, destroying, injuring, defacing, removing, digging, or disturbing any mine, structure, feature, or ruin is also prohibited.

Remember to take food & water!
Leave No Trace Principles are enforced
Drones and model aircrafts are prohibited
Camping is permitted only in designated sites or in areas open to dispersed backcountry camping
All park rules and regulations
7 Day Pass: $30/private vehicle. $25/motorcycle. $15/individual (bicycle or on foot).
12 Month Pass: $55/Death Valley Annual Pass (valid at Death Valley National Park). $80/America the Beautiful Annual Pass (valid at all national park and federal fee areas). $20/Annual Senior Pass (62 years or older US citizens; valid at all national park and federal fee areas). Free/4th Grade Pass (Valid Sept. 1-August 31 of the child's 4th Grade school year). Free/Military Pass (valid for all active military personel and their dependents with a CAC Card or DD Form 1173).
Lifetime Pass: $80/Lifetime Senior Pass (62 years or older US citizens; valid at all national park and federal fee areas). Free/Access Pass (available to all US citizens with perminent disabilities). Free/Access for Veterans and Gold Star Families Pass (valid for all military and veterans with a CAC card, Veteran HJealth Identification Card, Veteran ID Card, or veteran's designation on state-issued drivers license or identification card.)
Keane Wonder Spring Route
Most people who drive to the Keane Wonder Trailhead do so to walk up to the ruins of the Keane Wonder Mill. Many also climb the steep trail up to the old workings of the Keane Wonder Mine and the top of the aerial tramway. To be fair, those are the most impressive of the hikes from the trailhead. But for a very different experience – and a change of scenery – I also recommend hiking to the Keane Spring and (if you want to) beyond to John Cyty's Cabin.
The trail is mostly flat, and it's typically easy to find. However, the trail at the trailhead is anything but easy to follow. I'd hiked to the spring once before about 20 years ago, and I still got lost trying to find the trail from the parking area. Your best bet is to strike out west and a little north to a large old water tank and then along the base of the hills – keep your eyes open for trails that head north as well as the old, rusty pipeline. You'll be following the pipeline most of the way, so it makes a great landmark. After walking for a short distance, you should find one (or both) trails that lead generally north along the pipeline.
The trail to Keane Spring generally heads northwest along the base of the hills. Views are reasonably good along the way, although they get better as you walk further. Keep your eyes open for relics from the significant mining that took place in this area.
Keane Spring was an important part of the mining history of the area near the Keane Wonder Mine and the entire Bullfrog District. Water is a precious commodity in Death Valley, and the spring allowed the workers to survive and the mines to purify the ore to some extent before it was shipped to better refineries. However, the spring could only produce enough water to keep the Keane Wonder Mine purification processes at a low volume. The mine owner drilled another well near the mine site – but instead of striking water, he found another gold vein. So the new well was moved elsewhere.
About 1.2 miles from the parking area, the trail comes to the outlet of the Keane Spring. In November, it was a trickle of water running down over dry ground. The water channels were incredibly disgusting, but I suppose they could be called pretty with the different colors of algae.
Nearby is an old collection tank. The water in that was even grosser than the flowing water. Those miners must have been pretty thirsty to drink that stuff!
I scrambled up to the source of Keane Spring. It's just a lot of rushes with more desert beyond. Actually, just above the spring is a closed-off mine shaft. There is also a wildlife camera at the spring. And since I've now told you everything that's there, you aren't obligated to walk up to the source of the spring. It's not really all that exciting.
On my first visit to Keane Spring, we had found a small arch near the spring. Unfortunately, I didn't locate it this time. It's in a rock and is a window maybe 3-4 feet high and 6ft. wide. Not super impressive, but cool to find.
From the Keane Spring, I continued along the trail to John Cyty's Cabin and Stamp Mill; the views do get better as you walk, and the cabin and mill are interesting, so it's worth going further if you have time and energy.