Ubehebe Lead Mine – Death Valley National Park
This is not a Verified Hike and has been provided for your convenience. While the information here has been thoroughly researched, travel at your own risk and follow signs, regulations, and the trail over the information presented here.
This is a Rumored Hike. Wayfinding may be required or the route or features may not exist. Travel at your own risk and always obey signs and local regulations.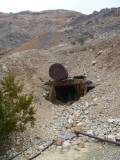 Visit an old lead, copper, gold, and silver mine. Note that the area is hazardous with both toxic chemicals and unstable mine shafts.
Total Distance: 0.75 miles point-to-point (dead end)
Elevation Gain: 36ft. up, 166ft. down (4,010ft. to 3,860ft.)
Road Difficulty: 2.0
Bicycle Difficulty: More Difficult
View Rating:

3.0 out of 5.0 stars

Author's Rating:

1.0 out of 5.0 stars

Visitor Rating:
Visitor Difficulty Rating:
Pets: Leashed (on road only)
Horses: Yes
Best Seasons: October-May
Special Permits: None
Water Availability: None
Overnight Options: None
Amenities: None
Crowd Factor: Solitude
Uses:
Road surface:
Features:
Hazards:
Mile-by-Mile: Ubehebe Lead Mine Road
0.0 Road to the Ubehbe Lead Mine on the Racetrack Road (3,988ft.). Follow the old road west (not north). A 4×4 vehicle can likely make it up to the top of the road; 2WD vehicles will need to park a short distance from the Racetrack Road and then hike up the remainder of the road. (36.745470°, -117.575193°)
0.75 Ubehbe Lead Mine Parking Area (3,861ft.). There are old miners' trails in the area. However, the mines are extremely unsafe, and the area is riddled with lead and other toxic metals. Walk around at your own risk and try not to disturb/breathe the dust any more than necessary. Old mine shafts pierce the area, along with many old mine implements/buildings and an old tramway. (36.749246°, -117.585270°)
History & More
The road may be impassable or require 4×4 when wet.
The Ubehebe Mine was discovered by copper miners in 1875. Despite claims of rich ore, the area was too remote to create much interest until after the price of copper rose in the early 1900s , mostly due to the rise in the use of electricity. Jack Salsberry purchased the mines nearby and built the road to from the Ubehebe Crater. The area was worked on and off from 1906 into the late 1960s and produced gold, silver, copper, and lead. Ore was transported to Bonnie Claire, Nevada; however, the remoteness of the mine kept it from becoming a high-production operation.
Try not to breathe the dust around the area – it is laced with lead and other toxic metals. In fact, I probably wouldn't visit at all due to the high levels of toxic waste.
Be very careful if you explore the area – the multiple mine shafts are unstable and may collapse when you least expect it. In fact, you could be walking on top of an old shaft and never know it until the roof caves in!
Download Trail Map
Coming soon!
Driving Directions
Take the Racetrack Road from the Ubehebe Crater Road 21.7 miles from the crater. Turn right onto the unmarked dirt road heading west.
Additional Warnings & Regulations
Special Permits & Regulations
Fees
It is illegal to enter any mine, shaft, tunnel, or adit if gated or signed.
It is extremely dangerous to enter a mine due to unstable shafts, gasses, and more. Do not enter mines, even if they are apparently open!
Walking on, climbing, entering, ascending, descending, or traversing any mine, structure, feature, or ruin is prohibited.
Toxic chemicals or ore may be present around mine sites. Enter at your own risk.
Possessing, destroying, injuring, defacing, removing, digging, or disturbing any mine, structure, feature, or ruin is also prohibited.

Remember to take food & water!
Leave No Trace Principles are enforced
Drones and model aircrafts are prohibited
Camping is permitted only in designated sites or in areas open to dispersed backcountry camping
All park rules and regulations
7 Day Pass: $30/private vehicle. $25/motorcycle. $15/individual (bicycle or on foot).
12 Month Pass: $55/Death Valley Annual Pass (valid at Death Valley National Park). $80/America the Beautiful Annual Pass (valid at all national park and federal fee areas). $20/Annual Senior Pass (62 years or older US citizens; valid at all national park and federal fee areas). Free/4th Grade Pass (Valid Sept. 1-August 31 of the child's 4th Grade school year). Free/Military Pass (valid for all active military personel and their dependents with a CAC Card or DD Form 1173).
Lifetime Pass: $80/Lifetime Senior Pass (62 years or older US citizens; valid at all national park and federal fee areas). Free/Access Pass (available to all US citizens with perminent disabilities). Free/Access for Veterans and Gold Star Families Pass (valid for all military and veterans with a CAC card, Veteran HJealth Identification Card, Veteran ID Card, or veteran's designation on state-issued drivers license or identification card.)