Willow Canyon – Death Valley National Park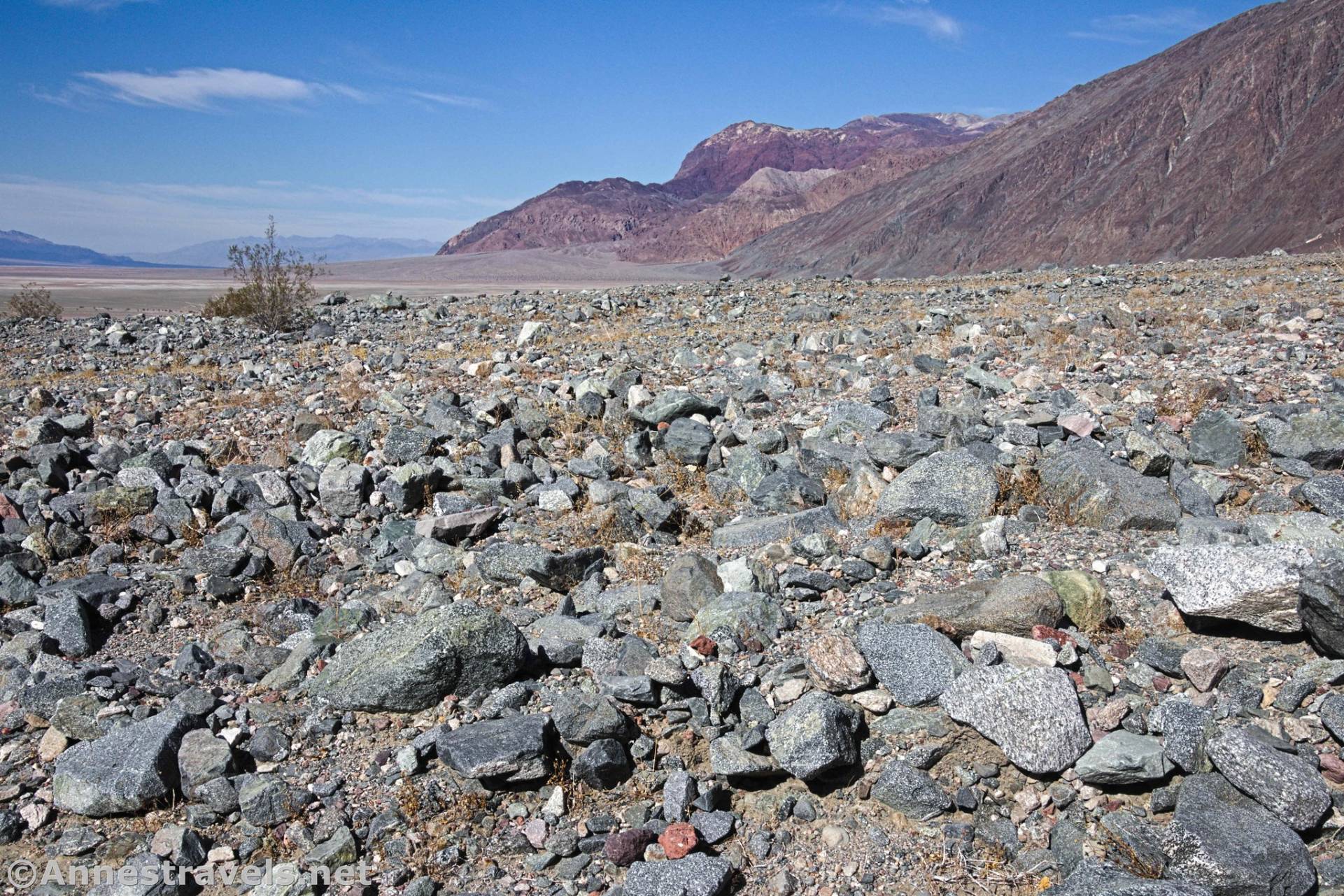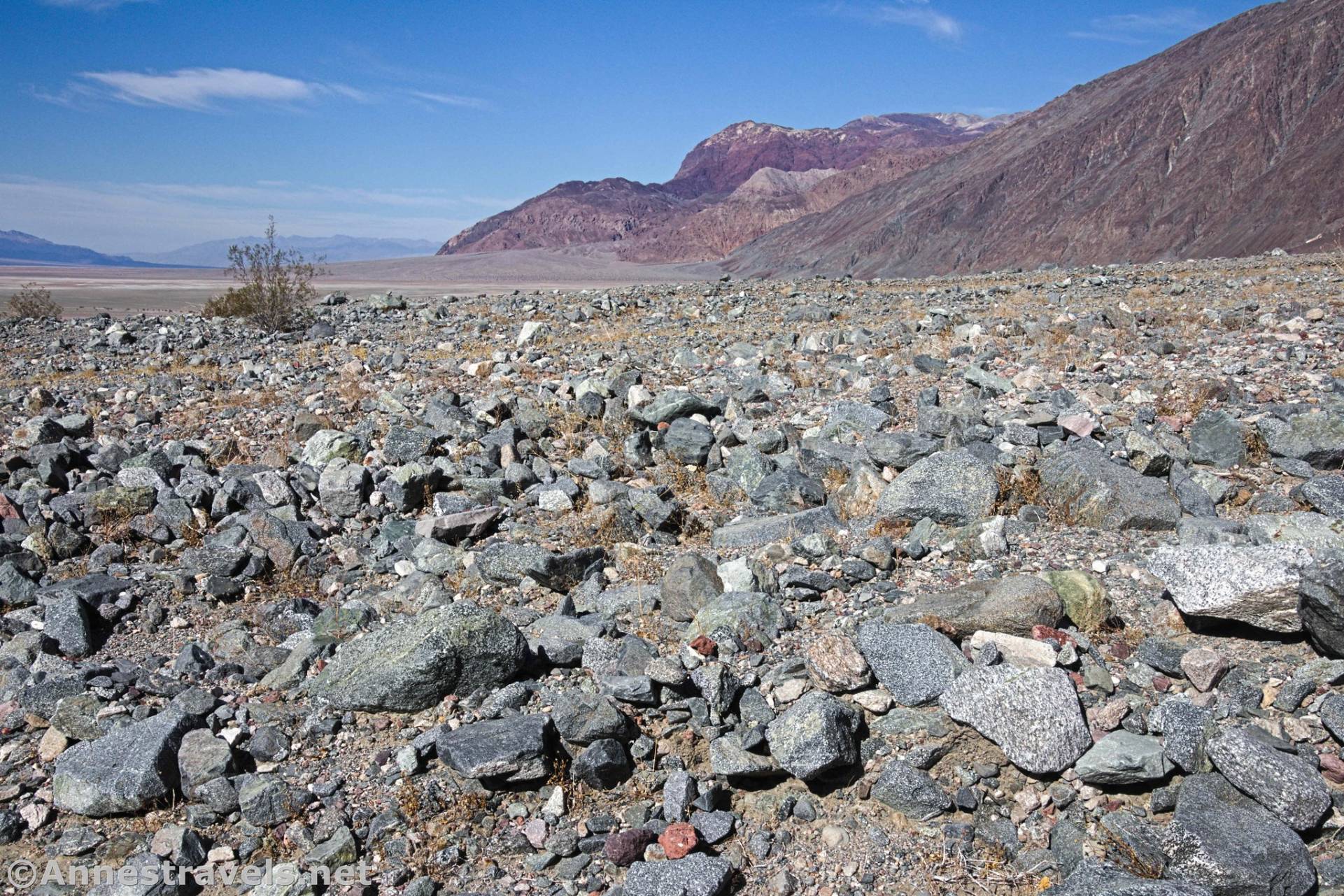 Willow Canyon 1
H ike up a desert canyon to a small slot and a seasonal waterfall.
Total Distance: 4.4 miles out & back
Elevation Gain: 1,325ft. (-236ft. to 615ft.)
Difficulty: Moderate
0-5 Mile Difficulty: Strenuous
View Rating:

3.0 out of 5.0 stars

Author's Rating:

2.0 out of 5.0 stars

Visitor Rating:
Visitor Difficulty Rating:
Pets: No
Horses: No
Best Seasons: December-May
Special Permits: None
Water Availability: Seasonal (non-potable)
Overnight Options: Dispersed camping permitted after about the 1.25 mile point (1 mile from the Badwater Road)
Trailhead Amenities: None
Crowd Factor: Moderate
Trailhead Access: 1.3
Uses:
Trail Surface:
Features:
Hazards:
Mile-by-Mile: Willow Canyon Trail
0.0 Willow Canyon Trailhead (-236ft.). The unmarked trail begins by striking northeast along the base of the hill (it's pretty hard to miss). (Be careful to get the trail that heads north (with the Badwater Road on your left) – the trail heading south is for Sidewinder Canyon.) Once it reaches the wash just before mile 0.5, it turns right (southeast) to travel upcanyon. Social trails dot the wash; you're welcome to follow any of these that stay in the wash. (36.0659167°, -116.7445167°)
1.8 Canyon Junction (378ft.). Stay in the main canyon by continuing straight/left into the narrows of Lower Willow Canyon. In the right season (after a rain, usually, or after the winter snow melts) you'll begin seeing water through the gravel on the floor of the canyon soon after entering the narrows. One short (6ft.) dryfall must be negotiated to get higher into the canyon – helpful hikers have stacked rocks to make it a fairly easy Class 3 scramble. (36.055402°, -116.724270°)
2.2 Willow Falls (615ft.). The waterfall is dry most of the year, but it's pretty with or without water on it. Retrace your steps to your vehicle. (36.0527833°, -116.7189667°)
History & More
Willow Creek is seasonal, which means that the falls may or may not have water on them. Usually, the falls flow in the spring and winter, when rain and snow in the mountains are more frequent. When flowing, the creek creates several pools and cascades below the main waterfall.
I've heard that the top of Willow Falls can be accessed from the 4×4 Gold Valley Road. However, ropes are required to repel down – and climb back up – several dryfalls.
The rocks around the falls are igneous, which means that they were formed when molten lava hardened.
If you want to explore the drainage you didn't turn right into just before the narrows, I hear that you can do so as well as scramble up above the canyon for some good views down on Death Valley. The hillsides are notoriously unstable, so watch your footing.
Download Trail Map
Coming soon!
Driving Directions
From the Furnace Creek Visitor Center, drive south on CA-190E (a right turn if you're coming out of the visitor center access road). After 1.3 miles, turn right onto the Badwater Road, following signs for Badwater. Drive 31.3 miles; a sign will indicate the Sidewinder Trailhead on the left (east). This is also the parking area for Willow Canyon, though you'll want to head to the left (north) side of the gravel lot to park.
From Death Valley Junction, take CA-190 West 28.9 miles to the Badwater Road; turn left toward Badwater. After 31.3 miles; a sign will indicate the Sidewinder Trailhead on the left (east). This is also the parking area for Willow Canyon, though you'll want to head to the left (north) side of the gravel lot to park.
From CA-127 north of Shoshone, turn onto the Jubilee Pass Road. Drive 24.9 miles, then take the paved road as it turns sharply north at the junction for the Harry Wade Road drive for another 14.5 miles on the Badwater Road to the Sidewinder Trailhead, on the right (east). This is also the parking area for Willow Canyon, though you'll want to head to the left (north) side of the gravel lot to park. Note that there's no sign from this side, but it's quite soon after passing Mormon Point, which is signed
The parking area is gravel, but it should be passable by low-clearance vehicles under most circumstances.
Additional Warnings & Regulations
Special Permits & Regulations
Fees
Always be wary of flash floods in a canyon.
Camping in a canyon is discouraged due to the danger of flash floods.
Remember, it may be easier to climb up dryfalls than down them (or vice versa). Be sure you can climb in the other direction before climbing up or down a dryfall.
Camping is not allowed within one mile of a paved road, developed area, or dirt road that is closed to camping.
Camping is not permitted within 100 feet of a flowing stream, spring, or other natural body of open water.
No camping is permitted on the floor of Death Valley, within one mile of Darwin Falls and Greenwater Canyon, on the active/shifting sand dunes, and certain other canyons and backcountry areas.
Camping is also prohibited within one mile of the Ubehebe Lead Mine, Leadfield Mines, Keane Wonder Mill, and Skidoo Mill.
Camping is limited to 30 days per calendar year within the park.
Fires are permitted in NPS-provided fire grates or grills ONLY.
Remember to take food & water!
Leave No Trace Principles are enforced
Drones and model aircrafts are prohibited
Camping is permitted only in designated sites or in areas open to dispersed backcountry camping
All park rules and regulations
7 Day Pass: $30/private vehicle. $25/motorcycle. $15/individual (bicycle or on foot).
12 Month Pass: $55/Death Valley Annual Pass (valid at Death Valley National Park). $80/America the Beautiful Annual Pass (valid at all national park and federal fee areas). $20/Annual Senior Pass (62 years or older US citizens; valid at all national park and federal fee areas). Free/4th Grade Pass (Valid Sept. 1-August 31 of the child's 4th Grade school year). Free/Military Pass (valid for all active military personel and their dependents with a CAC Card or DD Form 1173).
Lifetime Pass: $80/Lifetime Senior Pass (62 years or older US citizens; valid at all national park and federal fee areas). Free/Access Pass (available to all US citizens with perminent disabilities). Free/Access for Veterans and Gold Star Families Pass (valid for all military and veterans with a CAC card, Veteran HJealth Identification Card, Veteran ID Card, or veteran's designation on state-issued drivers license or identification card.)
Exploring Willow Canyon
I wouldn't call Willow Canyon the most spectacular hike in Death Valley. It's nice, and in many places, it would be awesome and amazing. But Death Valley has so much to offer – even from the same parking area – that Willow Canyon just doesn't live up to the hype.
Of course, if you're hiking early in the season (say, February-June), then the waterfall would make it worth the hike for sure (just how many waterfalls do you get to see in Death Valley, outside of Darwin Falls?) But in November after six months without rain, it made a good starter hike to spend an afternoon while we figured out what we really wanted to visit in the park.
Willow Canyon shares a parking area with Sidewinder Canyon. The trailhead begins at the northern end of the parking area, while Sidewinder Canyon begins from the southern end of the parking area. There's no sign, but there is a registry box. Apparently, dispersed camping is allowed in the canyon after about 1.25 miles (not sure I'd really want to sleep in a canyon and risk flash floods, but whatever…)
The trail heads north for about a mile over uneven, rocky terrain. The trail itself isn't too bad, but get off of it and it's a classic, rocky alluvial fan. The rocks are quite pretty, the views across Badwater Salt Flats to the Panamint Mountains are beautiful, and the views to the nearby peaks and fins of the Black Mountains are rugged.
After about a half mile, the trail turns right up Willow Canyon proper. At this point, there are multiple trails over gravelly terrain. It's not too difficult hiking, thankfully, though there's no question that you're going uphill!
As you rise, the canyon slowly narrows. The walls aren't very high, but you're walking deeper into the Black Mountains.
About half a mile after starting up the canyon, the narrows finally begin. It's still fairly wide (no claustrophobia here!) but definitely narrowing between sheer cliff walls.
About mile 1.8, the canyon splits. Go left-ish up the main channel. A short distance later, a 6 foot dryfall must be negotiated – helpful hikers have piled stones beneath the lip of the dryfall, so it's an easy Class 3 scramble.
Keep walking upstream and then up rock that has been stained by the trickle of water. At 2.2 miles, the way up comes to an abrupt end at Willow Falls… or in my case, Willow Dryfalls. You can see where the water has stained the rocks.
I've never heard of anyone who was able to scale the dryfall and continue upcanyon, though I have heard of hikers coming down from above (you'd need a map for that and possibly some canyoneering skills – the route begins from the 4×4-required Gold Valley Road).
Retrace your steps to the parking area. While it's not that exciting a hike when the waterfall isn't flowing, at least you get some great views in the afternoon out on Badwater Flats on your way back down!