Badwater Basin – Death Valley National Park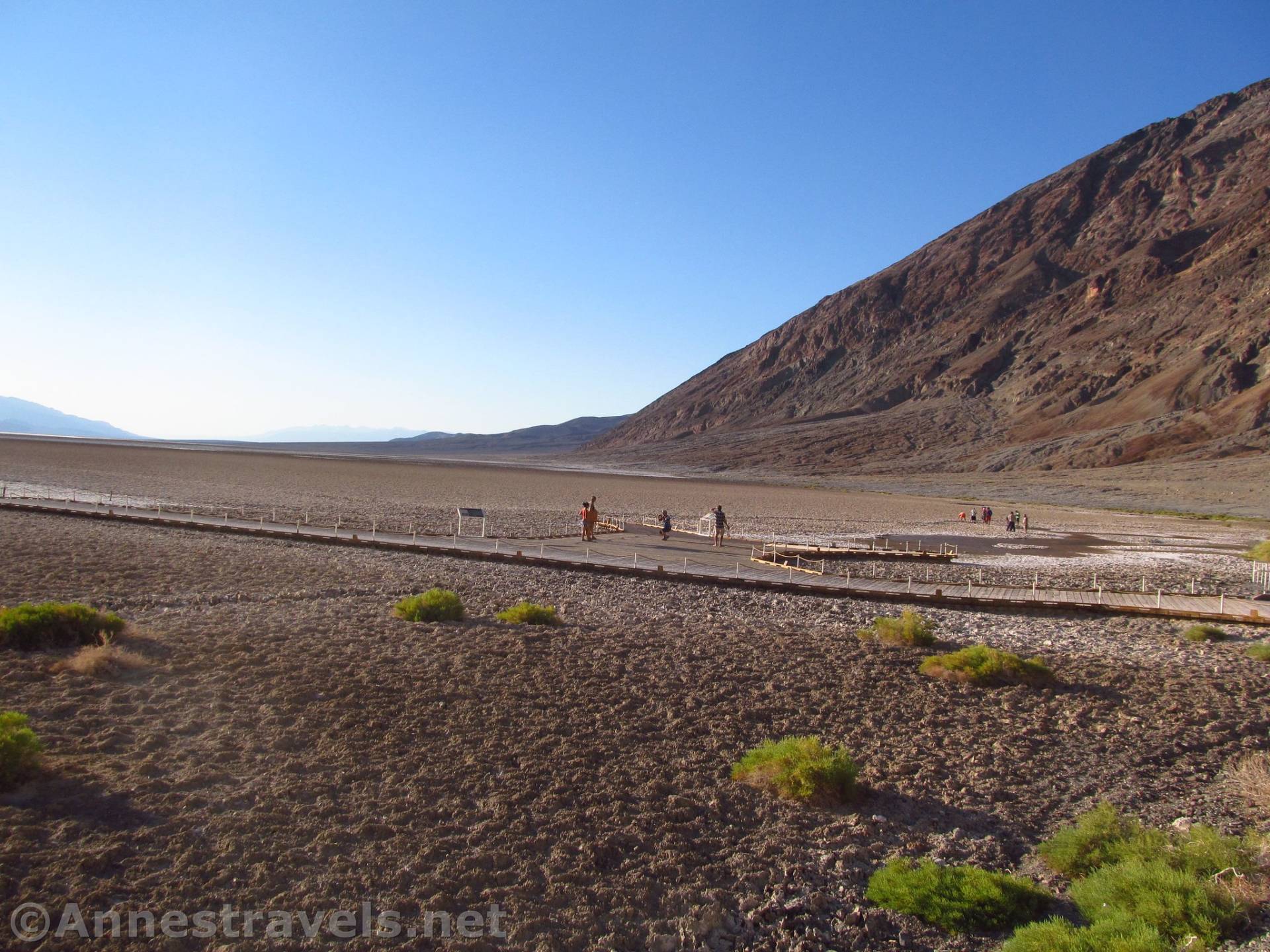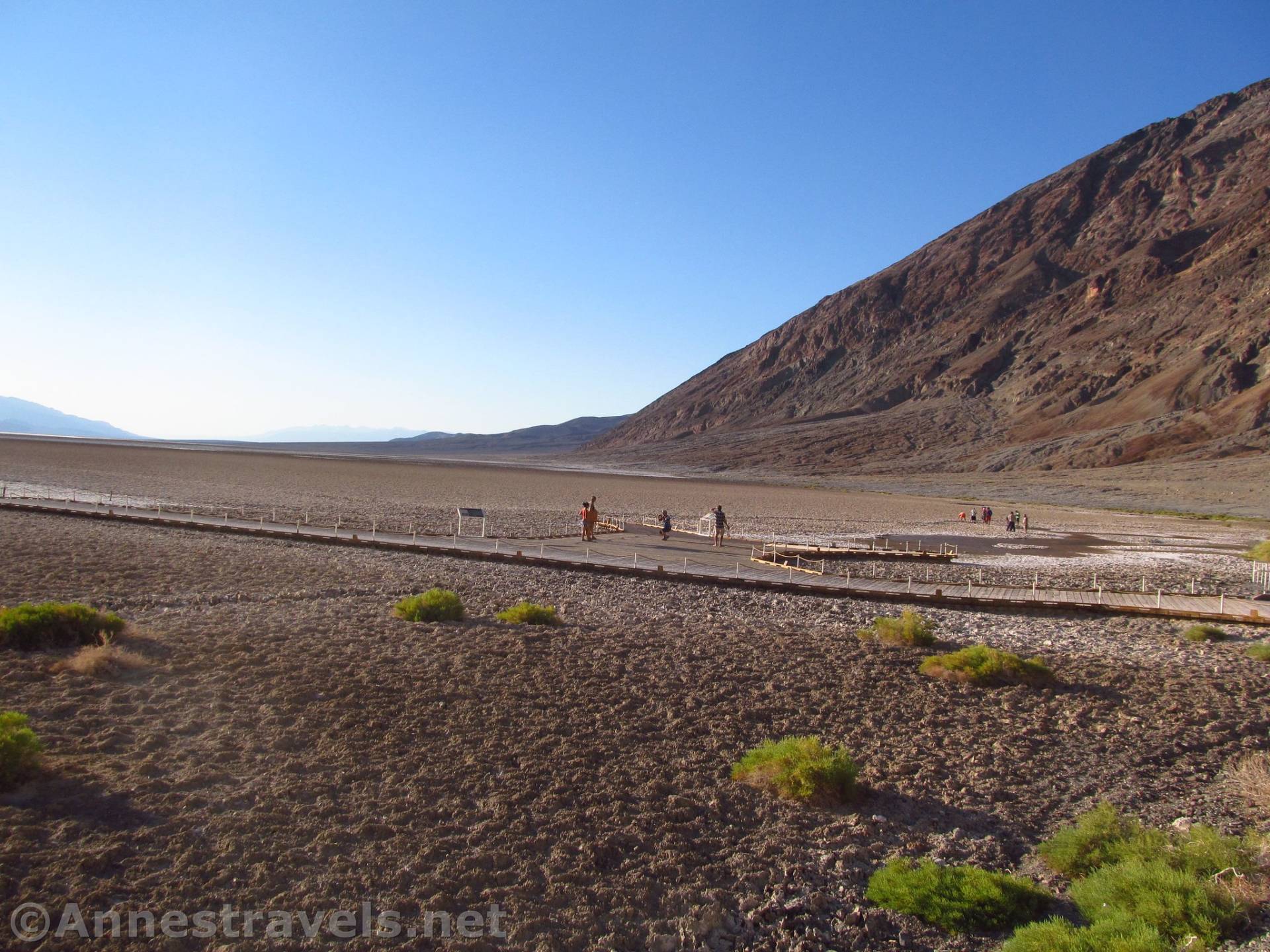 Badwater Basin 1
Stand in the lowest place in North America and explore the edge of a salt flat.
Total Distance: 0.25+ miles out & back with spurs
Elevation Gain: 27ft. (-270ft. to -280ft.)
Difficulty: Easy
0-5 Mile Difficulty: Easy
View Rating:

3.0 out of 5.0 stars

Author's Rating:

4.0 out of 5.0 stars

Visitor Rating:
Visitor Difficulty Rating:
Pets: In the parking lot only (no dogs on the boardwalks)
Horses: No
Best Seasons: October-May. Mornings December-April have the best views of Telescope Peak.
Special Permits: None
Water Availability: None
Overnight Options: None
Trailhead Amenities: Primitive Restroom
Crowd Factor: Crowded
Trailhead Access: 0.6
Trail Surface:
Uses:
Trail Surface:
Features:
Hazards:
Mile-by-Mile: Badwater Basin
0.0 Badwater Basin Trailhead (-270ft.). Walk either right or left to the stairs to descend down the boardwalk that goes out to the salt flats. Use care on the steps, as they are sandy. (36.229783°, -116.767435°)
0.1 Badwater Sign (-280ft.). Take your turn for a photo and read the signs nearby. Then turn to follow the boardwalk out onto the salt flats. (36.2299417°, -116.7677167°)
0.13 End of Boardwalk (-279ft.). You can continue out along the path into the salt flats as far as you want. (36.2299556°, -116.7681139°)
History & More
Badwater Basin is about 2 feet higher than the actual lowest point in North America. But it's close enough, right?
Badwater Basin frequently has water or puddles near the boardwalk. The puddles contain quite a bit of organic life – including a species of snail only found here – despite the harsh conditions.
It's said that "Badwater Basin" received its name when a miner tried to drink the water from the pool near the boardwalk. The water was so salty that he couldn't drink it.
The Badwater Salt Flats are mostly made up of sodium chloride (which is just table salt), though there is also calcite, gypsum, and borax on the flats.
It's a family tradition that we all gather around the Badwater Basin sign for a picture any time we visit. That's included a visit when it was 120F, and we felt like we were going to fry alive, as well as more chilly winter trips.
Badwater Flats cover nearly 200 square miles on the floor of Death Valley.
Download Trail Map
Coming soon!
Driving Directions
From the Furnace Creek Visitor Center, head south on CA-190E (a right turn if you're coming out of the visitor center access road). After 1.3 miles, turn right onto the Badwater Road, following signs for Badwater. Drive 16.5 miles to the parking area for Badwater Basin, on right.
From Death Valley Junction, take CA-190 West 28.9 miles to the Badwater Road; turn left toward Badwater. After 16.5 miles, turn right into the Badwater Basin parking area.
From the south, drive north on the Badwater Road. Badwater Basin is on the left about 30 miles north of Ashford Junction, where the Harry Wade Road joints the Jubilee Pass Road to become the Badwater Road.
Special Permits & Regulations
Fees
Remember to take food & water!
Leave No Trace Principles are enforced
Drones and model aircrafts are prohibited
Camping is permitted only in designated sites or in areas open to dispersed backcountry camping
Click here for all park rules and regulations
7 Day Pass: $30/private vehicle. $25/motorcycle. $15/individual (bicycle or on foot).
12 Month Pass: $55/Death Valley Annual Pass (valid at Death Valley National Park). $80/America the Beautiful Annual Pass (valid at all national park and federal fee areas). $20/Annual Senior Pass (62 years or older US citizens; valid at all national park and federal fee areas). Free/4th Grade Pass (Valid Sept. 1-August 31 of the child's 4th Grade school year). Free/Military Pass (valid for all active military personel and their dependents with a CAC Card or DD Form 1173).
Lifetime Pass: $80/Lifetime Senior Pass (62 years or older US citizens; valid at all national park and federal fee areas). Free/Access Pass (available to all US citizens with perminent disabilities). Free/Access for Veterans and Gold Star Families Pass (valid for all military and veterans with a CAC card, Veteran HJealth Identification Card, Veteran ID Card, or veteran's designation on state-issued drivers license or identification card.)
Exploring Badwater Basin
We were crazy to go to Badwater Basin in the middle of June the week after record-breaking high temperatures in California. We knew we were crazy. But we also wanted to hike Telescope Peak, and since we had to travel east to west somehow, going to Badwater made as much sense as driving right by.
Badwater Basin was known as the lowest place in the western hemisphere. The only problem is that they found someplace lower in South America, so now Badwater Basin is the lowest point in North America. That's still pretty cool, and there's a sign to prove it not so far from the parking area!
Several stairways and ramps lead down to the main boardwalk from the parking area. I would expect that at times of high visitation – say, Spring Break – the parking area would be overcrowded. It was crowded enough in the middle of June (and the middle of November and the middle of May and the middle of December), and I'm not sure why anyone would be crazy enough to endure those temperatures (so sayeth someone without air conditioning in their vehicle!)
The boardwalk goes out onto the salt flats, and almost immediately, you can turn right to the famous Badwater Sign. No one else was wanting it, so we got lots of pictures, no problem.
From there, the boardwalk goes out to the salt flats. For a good quarter mile beyond the end of the boardwalk, the flats are packed solid from so many feet. Stay on the trail in this section. If you want to go beyond the end of the "trail" to see some more natural formations, good, but for now, protect what is left close to the parking area.
We wandered out for a short distance, just far enough to say we had really done it, and took crazy photos of crazy people jumping in the evening sunlight (um, actually, those crazy people are us!)
We had told those who didn't want to get out of the van to give us five minutes, and we spent probably closer to ten minutes. But it was worth it. How many other people can say they hiked Badwater Flats at 120°F?
Go out as far as you want to on the salt flats before returning to your vehicle. You can walk all the way across the salt flats if you wish, though it's not exactly easy hiking. The further you go out, though, the more very interesting salt formations you see.
Note that you don't want to try going very far beyond the boardwalk when the ground is wet – your footprints will last for a very, very long time.